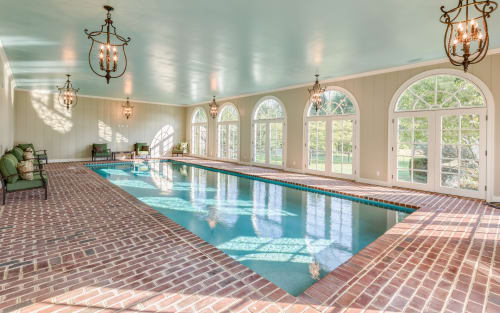 One of the unique attributes of this estate is also located on the main level of this home. A lovely breezeway leads to an indoor, saltwater lap pool. Six chandeliers light the pool area. A no-slip brick floor has been carefully crafted around the pool itself allowing for safety. The lap pool has an automatic sand filter and electronic water purification system and is heated by gas while an HVAC and full humidification control allow for year-round use and comfort. This allows its user to take full advantage of the five stationary and two operating double glass French doors which boast amazing views of the gardens and ponds of the property 365 days of the year. To provide convenience, the area also features a full bathroom. It is not only functional, but spacious. A ceiling light and wall sconces light the area while many cabinets provide storage space. White Carrera marble forms a lovely countertop and backsplash while a Kohler under-mount provides convenience. The owners of the home swam every day, using the pool for exercise, as they enjoyed the breathtaking views afforded from the space.


Normally, it is the house on a property that is most significant. In the case of this estate, its outdoors is as much of an attractive feature. Spread over 25-acres, the owners of this home have meticulously created a wonderland of gardens. Lush space after lush space rolls as far as the eye can see. A secret garden is an absolute delight as is the conservatory garden which is a wonderful feature of the property. The perennial gardens in the back are very English, while the topiaries in the secret garden are more American in feel. The owners planted everything – the willow oaks that line the driveway, the evergreen trees, the pines and hollies that they thoughtfully included for privacy as well as the hedge work that was planned to divide the property. The further one moves away from the main house, the more the gardens become informal. Mountains provide an amazing backdrop to a large tranquil pond. Walking paths and riding trails are found throughout the estate. It is a place that promotes nature and tranquility without being far from the nation's capital.


While Monte Subasio is a large home, it is warm and cozy. Every room has a purpose and no space has been wasted. The owners collected wine, hence a wine cellar of the traditional sort. They loved English gardens, hence the myriad blooms. The dimensions of the home were based not only on type of room but what furniture would occupy which space. It was a gigantic puzzle in putting it all together.


The end result is this masterpiece that will last throughout the ages. Monte Subasio is an amazing space to spend time in for even a small part of the day.